Parents, If you want to change the instructional delivery model (Virtual/In-Person) in which your child is currently registered, please call the school and speak to Ms. Fisher or Ms. Chapman between October 19--October 23. Please understand, if you change platforms, this could possibly affect your child's schedule and they may not have the same teachers or the same courses in the order they have currently, as not all teachers teach virtually and vice versa with in-person learning. Requests made outside of this window cannot be guaranteed. We will not begin taking calls to change platforms until Monday, October 19. Students whose platform changes will begin with their new instructional delivery model on Wednesday, November 4 (Nov. 3 is Election Day--no school for students). As always, if you have any questions, please contact the school at 304-755-7343.

Hello Poca Middle families, As we begin this week, remember school begins at 8:15. It is important to arrive to school prior to this time. Over the past 2 weeks, many students came to school with very little or no power to their laptops. Students use the laptops during the day for instruction; for this reason, it is important they charge their laptops each night & bring the charging cord each day. If your student has a library book, either from the middle school or an elementary school, return it to Mrs. Longsworth this week. Continue to complete your daily student health screening and send them with a mask. Students should bring a refillable water bottle to school so they have access to water during the day. As of last Friday, any family with a 7th grade student was contacted by our school nurse requesting shot records if they were not on file. If they are not on file with the school nurse your student may not return to school until we have them to indicate the required shots were given. Since you are unable to attend school, both in-person or virtually without these shots, absences entered until those records are submitted are unexcused absences. If you have any questions about this, please contact Nurse Kearns. All families that chose virtual instead of in-person instruction should continue with their virtual coursework as normal this week. Students are locked in to this choice until the end the 9 weeks. The end of the 1st 9 weeks is November 2nd. If you plan to make a change to this choice, call the school during the last week of October. Thank you!

Parents, Please follow the staggered re-entry plan for all in person students this coming week. Last names A-K report to school M, W, F and last names L-Z report to school T, Th. If you have already made arrangements for your student to attend on a day that is not your assigned day, this is still the plan. All other students should report on their assigned day. All virtual students continue as normal. Students should continue to check Schoology for any updates, lessons or instructions from your teachers. Students should bring: fully charged laptops, charging cord, basic school supplies, masks, water bottle, earbuds and backpacks. We will not be using lockers this year so students will carry their backpacks to class. Sports bags will go to room 216. Doors will open at 7:45 and class begins at 8:15. All bus routes will run 30 minutes later this year. Students must wear masks on their bus and throughout the school day. If you don't have one, we will provide one upon arrival to school. Parent drop off is in the front of the building in the far left lane. Parent pick up will be in the side parking next to the old gym. Parents, do not park in the fire lane next to the sidewalk. You will need to park in an available parking space and wait in your vehicle for your student. If your student is ill, meaning running a fever of 100.4 or higher or has COVID-19 or flu-like symptoms, please stay home. They may return to school if they are fever free for at least 24 hours without fever reducing medicine and symptom free.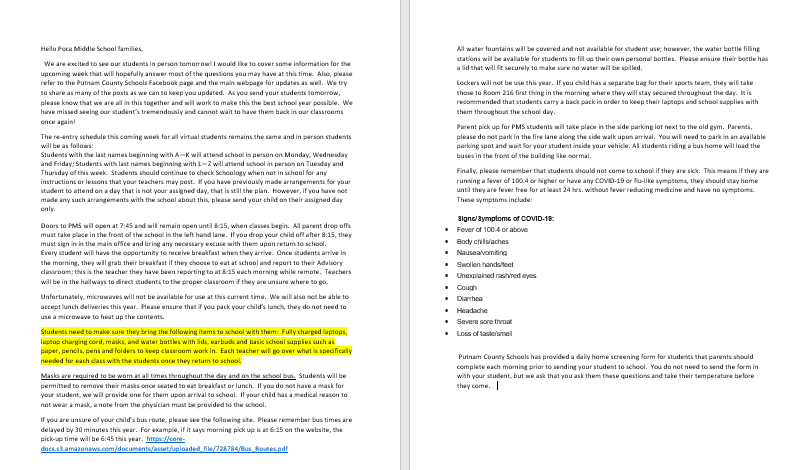 Hello Poca Middle Families, Putnam County is Red on the re-entry metric this week. This means we will continue with remote instruction for all students and there can be no sports practices of any kind. Please make sure your student logs in to Schoology, completes all class work and attends all TEAMS meetings for each class as well. It is very important for students to attend all meetings, complete and submit their work in Schoology in order for students to be counted present for class in remote and virtual status. For Related arts this week, students will have their second related arts class Monday, Wednesday and Friday and their first related arts class on Tuesday and Thursday. If you have any questions don't hesitate to call the school at 304-755-7343 or you may also use the Putnam County Hotline Monday through Thursday from 4:30 to 8pm at 304-586-4946. We will continue with student meals from 10 to noon daily in front of the middle school. Thank you and have a wonderful afternoon!

Hello PMSl families, Since Putnam County remains Orange on the metric map, all of our students will continue with their instruction remotely. Instruction will occur every day this coming week, with no staggering. Every student will need to log in to Schoology to monitor TEAMS calls and assignments for each class. Students should check specifically under the 'Materials' section in each course for assignments and join TEAMS meetings through Schoology. All other apps are secondary to Schoology. Related arts classes will rotate every other day. Your student's first RA class will take place on Monday, Wednesday and Friday of next week and their second RA class will take place on Tuesday and Thursday. If you are unsure which RA class is their first or second, please have your student message their RA teacher or ask their Advisory teacher for clarification. As a reminder, Advisory classes begin at 8:15 each day so, students should be logged in to Schoology prior to 8:15 to start on time. We will continue to provide meals to all PMS and PES students from 10-12 noon each day. Remain in your vehicle upon arrival and a staff member will assist you. If you are unable to attend meal pick up, but need meals for your student, please call the school at 304-755-7343 to request them and arrangements will be made to deliver them to you. Finally, any 7th grade family that needs to submit shot records for their student may still do so this coming week. Records may be faxed to the school at 304-755-8930. Remember, these are due no later than Friday, Sept. 18th. Thank you!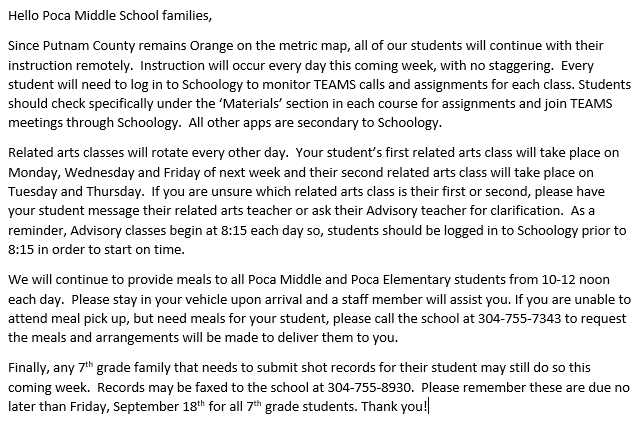 Hello 7th grade families, This is a reminder that all 7th grade students must have received their meningococcal and T-Dap shots to attend public school. This is for any 7th grade student, both in-person and virtual. All shot records must be received by the main office no later than September 18th. You may fax your student's shot record to Poca Middle School at 304-755-8930. If we do not have your student's shot records by September 18th your student will not be able to attend school or participate in any extra curricular sports or activities. If you have any questions, please call the main office at 304-755-7343 to speak with Nurse Kearns. Thank you and have a wonderful weekend.

Hello Poca Middle School families, Since Putnam County is in Orange on the school re-entry metric, we will not be able to begin school in person on September 8th; however, we will begin remote instruction ASAP. Please listen carefully to the details of this plan for device pickup. Laptop pick-up for: • 8th graders will be Tuesday, Sept. 8 from 8:30-11:30 • 7th graders will be Tuesday, Sept. 8 from 12:30-3:30 • 6th graders will be Wednesday, Sept. 9 from 8:30-11:30 • Any student that was unable to come during their designated time slot may come Wednesday from 12:30-7pm. Pick-up will be located in the side parking lot. There will be 3 stations each family will need to rotate through in order to complete all necessary paperwork and pick up the student laptop. Only the parent and the student are to exit the vehicle upon arrival. Masks must be worn by all those in attendance. As a reminder, 7th graders will need to have completed their 7th grade meningococcal & T-Dap shots in order to attend school. Bring a copy of their shot records with you to device pick up or have your doctor's office fax them directly to the school at 304-755-8930. We will still be offering meals. Meal pick-up will be in the front of PMS under the main entrance awning. Parents may pick up between 10-12 noon. Pull up along the sidewalk and a staff member will come to you, please stay in your vehicle. If you cannot make it to meal pick up, but need meals for your student, please call the school at 304-755-7343. We will make arrangements for your student meals to be delivered to you.

Good evening PMS Families, This is Mrs. Fisher, the principal of Poca Middle School. I wanted to let you know how excited we are to begin the 2020-21 school year. The staff of PMS is eager to begin instruction with our 5 day, in-person students, as well as our PCS Virtual students. This Tuesday will begin our staggered re-entry for all PMS students. For those students with last names beginning with A-K, your first day of school will be Tues., 9/8. If your last name begins with the letters L-Z, your first day of school will be Wed., 9/9. Please remember our doors will open 30 min later this year. The doors to PMS will open at 7:45 and instruction will begin at 8:15. I would also like to announce that end of the day, parent pick up for PMS students, will take place in the side parking lot, next to the old gym. Do not park in the fire lane. Park in a parking spot and wait for your student in your vehicle. The re-entry plan for PMS may be found on our Facebook page where you may find additional guidelines/procedures for this school year. Currently, Putnam County is Orange on the Metric Scale. This means, if we remain orange as of 9pm on Saturday night, PCS will not be able to begin the school year in person. Should this occur, you will receive a communication on Sunday/Monday from PCS providing you with instructions regarding next week. You will also receive information from PMS with specific instructions about student laptop pick up dates and times so we may begin remote instruction. Again, we look forward to seeing our students next week!

​Any student that is signed up for virtual learning may pick up their laptops from Poca Middle School this week. Sixth grade student laptop pick-up began today. If you missed your pick-up time for 6th grade, you may come tomorrow or Thursday to do so. Seventh & Eighth grade students will pick up their devices tomorrow, Wednesday, September 2nd from 8:30-11:30 or 12:30-3:30. The make up day for device pick up is Thursday, September 3rd from 8:30-11:30. If you are unable to make it to any of these days/times, please call the school at 304-755-7343 to schedule an appointment. Laptop pickup will take place on the side of the building closest to the old gym. Upon arriving to the school, parents and students will go through a COVID-19 screening and then be given a packet of information that both the parent and student must complete. Once the paperwork has been completed and returned to the staff, students will have their yearbook picture taken and then be given their laptop, along with any other materials needed (i.e. textbooks). Students MUST log in to their laptop on campus prior to departure to ensure they can log in at home. If you have any questions, please don't hesitate to call the main office.